In Canada, there are approximately 77,000 payroll professionals working for Canadian employers and 6,700 employees working at payroll service and software providers. These two channels generate a GDP impact on the Canadian economy of $8.6 billion annually.
The table below highlights the total annual economic footprint of the business activities of payroll professionals in each province and territory, by impact channel; This includes the number of employees, GDP, labour income, and total tax revenues.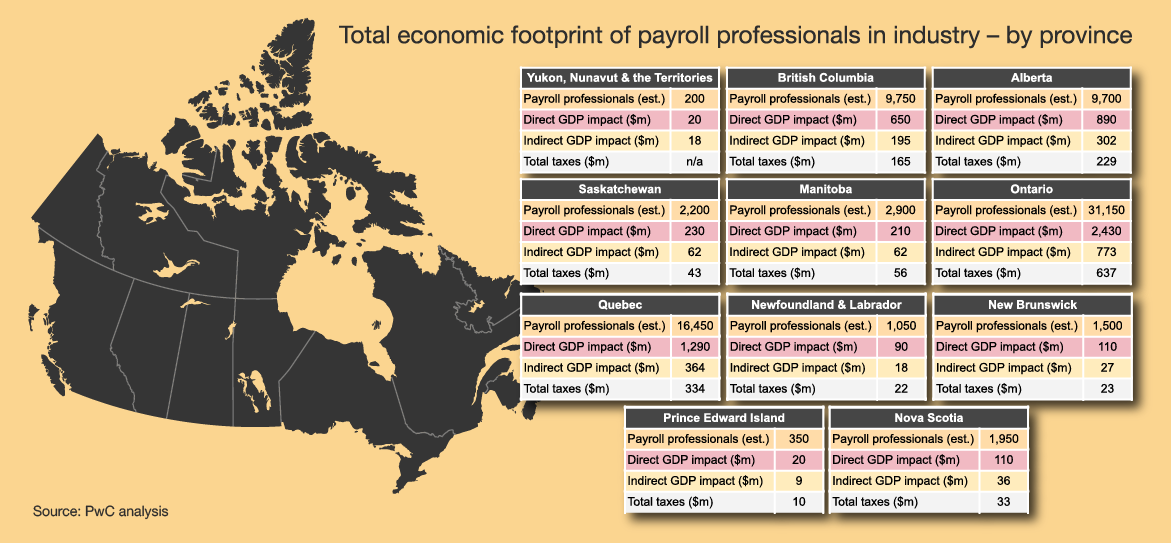 Given their oversight and involvement in direct remittances to governments, payroll professionals play a significant role in the smooth functioning of government finances.
Payroll professionals facilitate approximately $345 billion in statutory remittances to the federal and provincial governments annually, while ensuring their organizations are complying with more than 200 federal and provincial legislative and regulatory requirements. PwC Canada's research estimates that these activities, along with compliance-associated activities, cost Canadian employers $12.5 billion annually. They also provide significant benefits to Canada. Without the expertise of payroll professionals, government tax revenues would be severely impacted; this highlights how payroll professionals are core contributors to the smooth running of Canada's economy.